My Blue Valentine Paperweight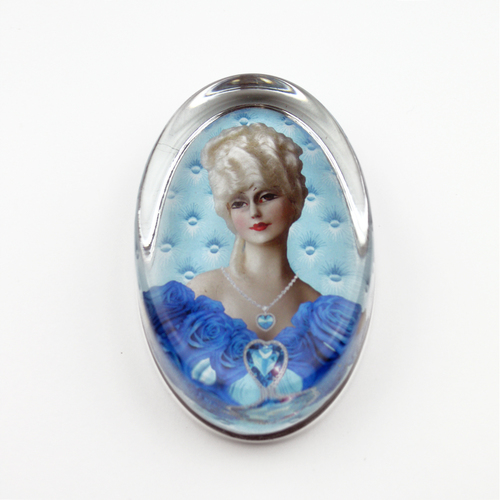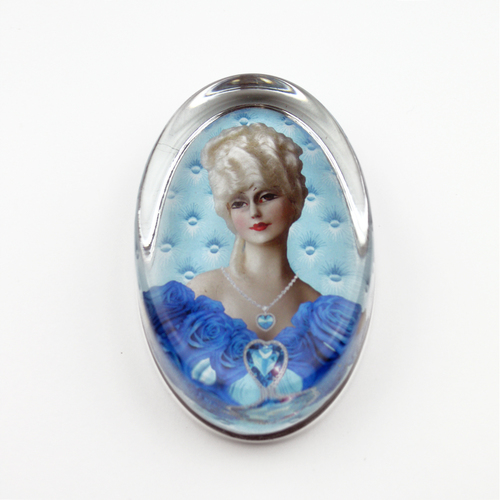 My Blue Valentine Paperweight
Meet 'My Blue Valentine', the lovely, yet anonymous plaster "half-doll" featured in this undeniably romantic glass paperweight. Made of porcelain, most of these vintage half-dolls were produced in Germany between 1900 and 1950. The bottom edge of the half-doll mold was made with small holes to be stitched to voluminous skirts, thus transformed into a decorative tea cozy or pincushion or lamp base. With her platinum curls, smitten dark eyes and fiery red lips, 'My Blue Valentine' stares wistfully into the distance, dreaming perhaps of a long lost love, or perhaps of a new sweetheart on the horizon. Blue roses and crystal heart-shaped pendants speak louder than the words she cannot express and a backdrop of aqua-blue tufted wallpaper keeps her dream safely under glass forever. A very romantic gift, let 'My Blue Valentine' charm her way into your heart or theirs. Either way, you will fall in love with this plaster half-doll and her magical world.
Wipe with a damp washcloth to clean.
This paperweight is 4.25" X 2.75" and weighs 0.9 lbs.